Although ASEAN auto tariff rate has fallen from 60 percent to 50 percent on less than 25 seat types since early 2014 but Vietnamese consumers' dream of purchase cars at low prices has not come true due to the outrageously high taxes and fees set by importers. Those taxes make the cost of getting a car often increase as high as twice or triple the original price.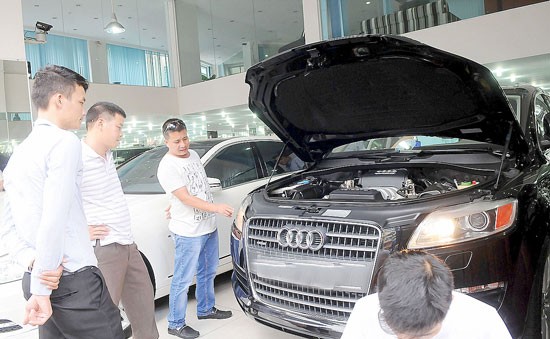 ASEAN auto tariff reduction has not lowered car prices as expectation in Vietnam (Photo: SGGP)
Domestic car prices are found 1.5 time higher than that in Asia and as high as triple the US.
Freelance businessman Nguyen Trung Quang in Tan Phu District, Ho Chi Minh City has decided to buy an import Toyota Camry 2.5Q and its cost in the US is around US$22,000.
However, Mr. Quang has purchased the car from an auto import company at US$60,000 including tariff, exercise, value added taxes and an extra of nearly ten kinds of fees including registration fee, road toll, fees for license plate and premiums.
Thailand and Indonesia have recently introduced a lot of low cost cars of around US$10,000 per 1-1.5 liter engine car of brands such as Mitsubishi Mirage, Daihatsu Ayla and Honda Brio Satya. In Vietnam, importers charge VND100-300 million higher than the original price.
For instance, a Toyota Yaris E is priced US$17,700 (VND400 million) abroad. It escalates to VND661 million after being imported. The price of a domestically assembled Suzuki Swift is VND550 million, VND200 million higher that in Thailand.
According to the Industrial Policy and Strategy Institute under the Ministry of Industry and Trade, costlier production fee and higher exercise tax make the prices of less than nine seat cars higher than that in other Asian nations.
In addition, high selling prices set by the importers also make heavy consumers' dream.
For instance, after importing a high class car at US$33,000, businesses sell it at US$121,000 earning $12,394 (VND260 million).
Another high class modal is imported at $40,000 and sold at VND3 million, bringing the importers US$11,805 (VND250 million) per car.