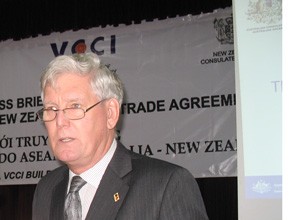 Australian Consul General Graeme Swift (Photo: Minh Tuong)
A seminar was organized in Ho Chi Minh City Wednesday to promote to Vietnamese business the benefits of the ASEAN--Australia--New Zealand Free Trade Area (AANZFTA), which entered into force early this January.
The Australian Consulate General, the New Zealand Consulate General in the city, together with the Vietnam Chamber of Commerce and Industry, held the workshop.
"Australia regards this cooperation as an integral part of the free trade agreement and I am pleased to be able to organize this seminar with our partners," Australian Consul General Graeme Swift said.
"Australia and Vietnam stand to gain from this agreement across many sectors, including exports of agricultural products, industrial goods and services and I am pleased to be able to promote the agreement," he said.
According to him, the AANZFTA is the largest the free trade agreement Australia and New Zealand have ever concluded and it will reduce or eliminate tariffs across a region that is home to 600 million people with an annual GDP of A$3.2 trillion.
The agreement contains regional rules of origin and substantial tariff reduction and elimination commitments, as well as World Trade Organization-plus commitments in other areas such as services.
Australia's two-way trade with the ASEAN region is worth AU$80 billion a year, according to the Australian Consulate General.