The American Leather Association held a trade promotion workshop in Ha Noi yesterday to promote the direct sale of U.S. leather to Viet Nam.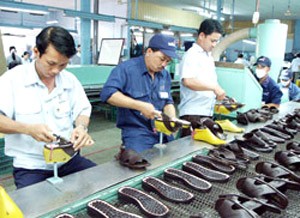 Around 80 percent of leather in Viet Nam is imported
Viet Nam spent US$57.8 million on raw leather directly from the U.S. in 2007, an increase of 400 percent compared to US$11.6 million in 2005.
 
An official from Ho Chi Minh City Shoe and Leather Association said that the U.S. is the world's leading leather exporter, but that Vietnamese companies have so far imported U.S. leather mostly through intermediaries.
 
Although Viet Nam spent nearly US$1 billion on raw and finished leather in 2007, less than 10 percent was imported directly from the U.S., he said.
 
At present, around 80 percent of raw leather in Viet Nam is imported, mainly from South Korea, Brazil and China.