On November 5, the State Auditor sent the Audit Plan for 2013 to the National Assembly, by which it will assess the current status of public investments, financial management and production efficiency of businesses, state corporations, state-owned commercial banks and other financial institutions.
In 2013, 16 ministries and central agencies will be audited, in addition to the State Bank, under the regular annual audit.
Six state corporations are on the list for scheduled audits including EVN, Petro Vietnam, Coal Mining, Textile, Rubber Industry and Telecommunications.
There are 16 other state-owned groups of enterprises on the list of scheduled audits, including the Vietnam Airlines and Song Da Corporation.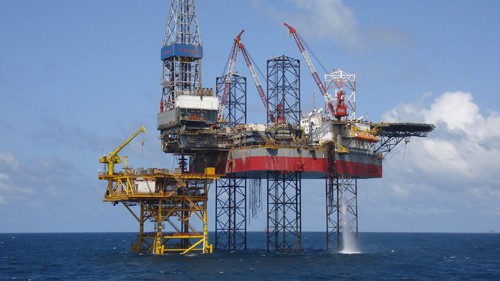 A PVN oil platform (Photo: SGGP)
Four commercial banks are on the plan including Joint Stock Commercial Bank for Industry and Trade, Joint Stock Commercial Bank for Foreign Trade, the Bank of Agriculture and Rural Development and the Development Bank.
Meanwhile, the state-run oil and gas giant Petro Vietnam (PVN) has been requested to pay an additional VND11 trillion or US$523.8 million into the state budget, a duty it had previously 'forgotten to fulfill,' said the Government Office.
The unsettled budget contribution is from the 'oil and gas interests' or profits from the joint-venture VietsoPetro between Vietnam and Russia, according to a bilateral agreement between the two nations.
In June, the Ministry of Finance released a document asking PVN to review and repay the VND21 trillion in the period 2009-2011, but the company hesitated, saying it had adhered to the government's regulations.
PVN has so far repaid only VND1 trillion out of the total sum.
"PVN must clear the remaining VND10 trillion by the end of this year, and that huge sum of money is very important for the beleaguered state budget this year," said an official of the Ministry of Finance.
PVN has also been asked to clear a tax payment and an administrative fine worth a combined VND1 trillion by the Ho Chi Minh City Tax Agency.
PVN has failed to pay the special consumption tax of VND503.8 billion that is applied on the condensate product it exploited and sold between 2007 and March 2012, the agency said.
The agency thus requested PVN to clear the tax payment and pay a VND495.2 billion late payment fine.
But PVN has lodged a plea with the Ministry of Finance, saying it does not have to follow the tax agency's request.
"The exact amount of tax and fine PVN will have to pay will be announced after the ministry has considered the case," he said.