The Australian Trade Commission (Austrade) launched its Financial Services Benchmark Report 2010 in Ho Chi Minh City Friday.
The leader of Austrade's ASEAN financial services team, Ms. Julianne Merriman, said, "The Benchmark Report is a key publication for the Australian Trade Commission, which demonstrates the strength, depth and competitiveness of the Australian financial services sector."
Austrade is the Australian Government's trade and investment facilitation agency.
Austrade chief economist Tim Harcourt and the Australian Consul General in HCM City, Mr. Graeme Swift, took part in the launch luncheon, which was also attended by various Australian business executives.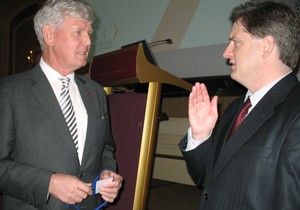 Austrade chief economist Tim Harcourt (R) gestures while talking to Australian Consul General Graeme Swift during the launch of the Financial Services Benchmark Report in Ho Chi Minh City June 10, 2011 (Photo: Tuong Thuy)
The Austrade chief economist delivered an update on the Australian economy.
"The report shows that Australia's financial sector remains robust, underpinned by a global best practice regulatory system, and that Australia's standing as a financial center in the Asia Pacific region is enhanced after the global financial crisis.
"Financial markets in Australia operate on a large scale with total turnover exceeding A$100 trillion in 2010 and of this, over-the-counter accounted for 66 per cent of total financial market turnover that was almost A$67 trillion.
"Assets of financial institutions reached almost A$5.2 trillion by the end of March 2011, which is equivalent to approximately four times the Australian GDP.
"Banks accounted for A$2.6 trillion or 55 per cent of these assets, while superannuation funds, life insurance and other managed funds accounted for an additional A$1.7 trillion or 36 per cent of total financial assets at March 2010.
"Australia also has the fourth largest pool of contestable funds under management globally and the largest in the region, with A$1.9 trillion in funds under management.
"This is a five-fold increase in the amount of contestable funds under management in Australia since 1995 with a compound annual growth rate of 12 per cent," Mr. Harcourt said.
The Australian Consul General, Mr. Swift, said in his speech, "The International Monetary Fund recently rated Australia as the strongest performer of the world's major developed economies, both during the global financial crisis and in the period since then.
"… The success of an economy cannot be limited to any one factor. However, there is no doubt that a leading contributor to Australia's success is the strength of our financial services sector.
"Among the great successes within our financial services sector have been our leading banks – Commonwealth Bank, ANZ, National Australia Bank and Westpac. Two of these great Australian banks, ANZ and Commonwealth, have a Vietnam presence, contributing to the growth of Vietnam's financial services industry," said Mr. Swift.
The financial services sector is the biggest industry in Australia, said Ms. Merriman, the leader of Austrade's ASEAN financial services team.
"It contributes contributing 10 per cent to Australia's annual GDP, almost four times more to national output than agriculture and fishing, and nearly 50 per cent more than mining.
"There are significant opportunities for both Australian and Vietnamese financial services companies, particularly given the growing two-way trade and investment between the two countries," she said.
"The Vietnamese financial sector is well placed to take advantage of Australia's strengths in banking, funds management and wealth management, and the products, services and best practice on offer from Australia.
"Austrade looks forward to supporting further trade and investment in the financial services sector between our two countries," she added.
Austrade has a financial services team across the ASEAN region with business development managers in key business centers such as Kuala Lumpur, Singapore, Jakarta, Bangkok, Manila and Vietnam's Hanoi and Ho Chi Minh City.