Vietnam's seafood exports to Australia yielded US$115 million in the first eight months this year, of these shrimp accounted for 63 percent total export volume, reported the Vietnam Seafood Producers and Processors Association.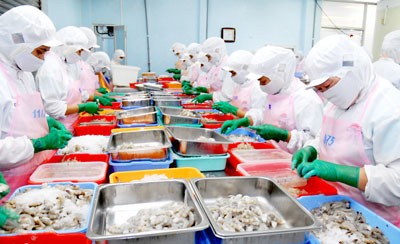 Workers process export shrimps (Photo: SGGP)
Australia has become a potential market of Vietnamese shrimp products, ranked the seventh largest importer after the U.S., Japan, the EU, China, South Korea and Canada.
Raw material and processed shrimp exports to Australia from China who is the main rival of Vietnam have dropped over 50 percent. Therefore, Vietnam can take advantage of this opportunity to expand its market share, said the Association.
Moreover, Australian market has high requirements on technical norms, goods origin, food safety and hygiene and brand names' prestige.
Vietnamese businesses should carefully learn about local distribution channels to facilitate their goods trade in this market, it advised.