Australia Network, the Australian Broadcasting Corporation's (ABC) international television service to Asia, the Pacific and the Indian sub-continent, considers Viet Nam as one of the most important markets for future expansions, said the Australia Network CEO.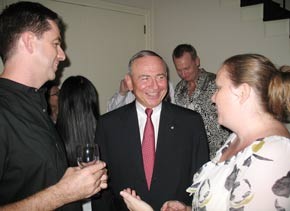 ABC Chairman Newman (C) chats with guests at the ABC welcome reception in HCMC. (Photo: Tuong Thuy)
Mr. Bruce Dover told this to Sai Gon Giai Phong during a reception held by the Australian Trade Commission in HCMC on April 5 to welcome the Australian Network Delegation. ABC Chairman Maurice Newman, ABC managing director Mark Scott and Dover are visiting Viet Nam from April 4 to 8 to further survey the market.
Dover explained why Australia Network attaches importance to Viet Nam. "A great deal of Vietnamese students have been studying in Australia and they want to watch Australia Network. They pay special attention to our IELTS training programs."
The International English Language Testing System (IELTS) is an international test of English language proficiency which is now accepted as evidence of a prospective student's level of English by most universities in English speaking countries.
Dover said Australia Network expected further expansions of IELTS training for the Vietnamese market.
In general, ABC Chairman Newman said his corporation has obtained a better understanding of the Vietnamese audience.
Australia Network CEO Dover spoke out what the Vietnamese audience would like from his firm. "They include international news, Australian dramas, and Nicole Kidman [one of Hollywood's top Australian stars]."
"In the future, we will add Vietnamese subtitles in our Australian dramas for this market," he added.
Dover said a different point between his country and Viet Nam that Australia Network has found out is in the prime time for television. "The prime time is Australia is from 6 pm to 9 pm, but it is from 7 or 7:30 pm to 11 pm here because people get home from work later than in Australia."
Mr. Dover's career as a journalist, editor and business executive has included senior appointments in print, television and new media. His wife, a Vietnamese Australian, is running her own business in Viet Nam and his daughter is also working in the country. This helps him better understand about the market.
Australian Network is currently available in Viet Nam, as CNN of the U.S., BBC of Britain, TF1 of France, DPA of Germany NHK of Japan, CCTV of China and many other international TV channel are.