Tens of tons of low quality potatoes from China are continuously sold as Da Lat home-grown potatoes when the Department of Agriculture and Rural Development in the highlands province of Lam Dong promised it would tighten control over potato sale to protect consumers' benefits.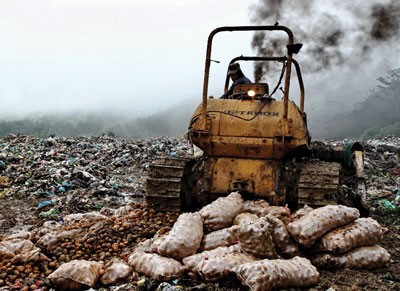 Chinese potatoes are destroyed (Photo: SGGP)
The market management board of Da Lat Agricultural Market July 27 confirmed from the early July there has been three batches of Chinese potatoes ( total over 50 tons) being released into the market.
One month ago in June, around 60 tons of Chinese potatoes were imported in the highland city of Da Lat that has the largest square of potato fields in the country then sold into markets nationwide.

As per receipts presented by the trader, Chinese potatoes fetch VND3,380 per kilogram while Da Lat potatoes are sold at VND10,000 a kilogram.
As consumers prefer Da Lat potatoes, Chinese potatoes are disguised by sellers as Da Lat grown potatoes before they are released into market to earn exorbitant profit.

Le Van Minh, director of the Department of Agriculture and Rural Development said that if crooked sellers who sell the vegetable without clear indication of origin or disguised as the local products will receive heavy fine as it is the act of commercial fraud.