The Government's auto industry strategy remains on the right course but it needs to be tweaked to boost the industry's development, Deputy Minister of Industry and Trade Le Duong Quang said.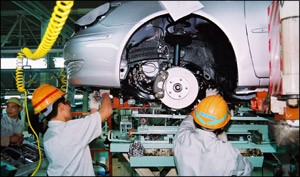 Toyota Motor Vietnam's factory. The deputy industry minister says the Government's auto policy is on the right track but needs a little fine-tuning.
Speaking exclusively to SGGP, he said the newspaper's stories on the industry and readers' opinions have been useful for policymakers and carmakers, enabling them to amend policies to ensure the industry's development.

It would be a mistake to let the auto industry languish since it enables the development of other industries and services, he said.

His ministry has reviewed implementation of the industry's development plans and plans to recommend amendments to the prime minister, he said.

They would cover cars and parts, conditions for investment, international cooperation, and attracting foreign investment, he said.
The industry has failed to achieve some targets envisaged in the strategy, especially those related to increasing the proportion of locally-made parts, he said.

The reasons are that the auto market is small, investors have reservations about the Government's inconsistent polices, and the failure of relevant agencies to adopt uniform concepts to calculate the rate of domestically-made parts, he explained.

The Industry Ministry (now the Industry and Trade Ministry) has suggested in the past that components exported by firms should also be considered to arrive at the rate of domestically-produced parts they use. But the recommendation was not accepted by the Government.

Fixing mandatory rates of domestically-made parts would have to be removed because of bilateral and multilateral agreements and World Trade Organization commitments, he said.

But Vietnam can impose high import duties until 2018 on cars and parts manufactured in the country, he said.

He defended the Government's policy in the last decade of protecting the auto industry, saying it is essential since it is still young. Most nations have policies to protect their nascent industries, he pointed out.

This policy has encouraged establishment of 100 percent Vietnamese-owned auto companies like Truong Hai, Xuan Kien, and Samco, he added.
Related articles:
Stable policy needed for local auto industry: expert
Auto joint ventures profit from Government policy