The Government's policy in the last ten years of protecting the domestic auto industry has yielded big profits for the industry but not for consumers.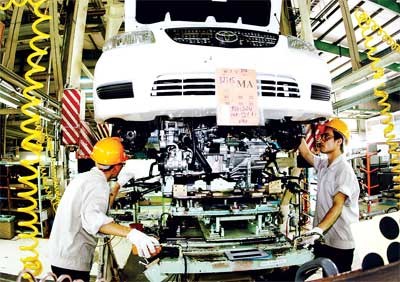 Workers at Toyota Vietnam's plant. The Government provides protection to the auto industry through tariffs and other measures, a policy criticized by economists (Photo: SGGP)
There are more than 200 firms engaged in manufacturing and assembling cars and spare parts, with 90 of them manufacturing or assembling cars, seven being 100 percent foreign-owned and 11 being joint ventures, including Mercedes-Benz VN, Ford VN and Toyota VN.
 
At the time of licensing, most joint ventures agreed to increase the rate of domestically-made parts used in their vehicles to 30-40 percent within 10 years in compliance with the Government's strategy of developing the auto industry.
 
But now, more than 10 years later, they have yet to fulfill their commitment and continue to source components abroad.
 
Most of them merely assemble cars imported in CKD (complete knock down) form, with local manufacture restricted to simple tasks like welding, installing car fames and bodies, washing, painting, and assembling.
 
Truong Dinh Tuyen, the then trade minister, told the National Assembly in late 2006 that the Government used tax to protect the auto industry to attract investment in the components industry. But with the Vietnamese auto market being very small, manufacturers have been wary of making big investments.
 
Ton Quang Tri, deputy director of the Ho Chi Minh City Industry and Trade Department, said the strategy has had a counter-effect.
 
He said: "The Vietnamese market at that time was not ready for high-technology industries like auto."
 
"In addition, customers preferred imported vehicles. Therefore, a car with 100 percent foreign parts attracted Vietnamese buyers then and even now if it is the same price as a local one."
 
Besides, companies cannot be expected to worry about developing the components industry but only manufacture according to market demand, he said.
 
Though they made a commitment, he said car joint ventures possibly realized increasing the rate of domestic parts was impossible.
                                                             
Foreign auto companies have come to Vietnam mainly to capture a share of the market and take advantage of cheap labor to assemble cars.
 
They mainly assemble vehicles while parts are made in other countries.
 
"Therefore, we have helped foreign auto giants grab market share, resulting in strangling local manufacturers," Mr. Tri said.
 
Lessons
 
Economist Pham Chi Lan said the country has yet to develop a strategy for the auto parts industry.
 
Until 2008 Toyota could not buy a screw in Vietnam that met its required standards for assembling cars in Vietnam.
 
Though the Japanese giant, like other firms, pledged to increase the local content on its vehicles, it has been unable to do so since that depends on the development of the local parts industry.
 
The auto and components industries require scale to be able to make vehicles at reasonable prices while in Vietnam annual output is less than 10,000 cars.
 
Conventional wisdom is that the auto industry can only develop when a country has a rather large population and annual average income of US$3,000.
At the time when joint ventures arrived in Vietnam, the country's per capita income was just a few hundred dollars.
 
All this has meant no company has reached the committed rate of use of locally-made parts and cars continue to be sold at extremely high prices compared to neighboring countries since, with the protection they get from the Government's policies, carmakers have no worry about competition.
 
Vietnamese consumers have had to buy local cars of poor quality and service but at higher prices than in most other countries.