Car manufacturers and importers have raced to raise prices after the General Customs Department applied October 2 a new list of fixed import-car prices on which to levy tax as part of measures to tighten control of high-value import products.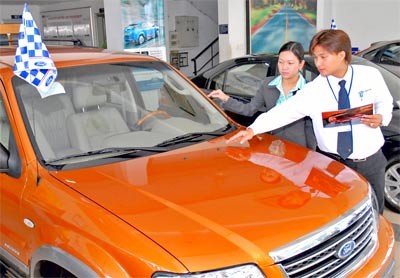 A shopper checks out a car at a showroom in Ho Chi Minh City (Photo: SGGP)
The price of most imported cars has increased sharply because of the Finance Ministry and customs department's new policy, with imported Camry increasing by US$2,500, Lacetti by $1,000 and Hyundai Genesis Coupes by $3,500 each.
 
Local importers say despite slow sales, they will have to continue to raise prices, even if they only sell one or two vehicles a month.
 
The price of most cars has increased by 5 percent on average, with the Toyota Corolla Altis 2009 increasing by $2,000-2,500 to US$42,500-43,000, and the Lexus RX 350 2009 increasing by $5,000 to $125,000.
 
Hoang Tan Khang, director of the H.K. Company that imports used cars in Ho Chi Minh City's District 5, said that his company's car sales had been very slow since early this year. However, he was forced to raise prices because the new Customs' price list mandates an increase of 3-20 percent per car.
 
Nguyen Hoanh Dinh, head of the Sales Department of Huynh De Auto Company, said auto importers don't want to raise prices, but they often have no choice because agencies in charge of issuing new regulations fail to warn them in advance. Hence, they often suffer losses, Dinh said.
 
Car importers have contributed a great deal to the State in terms of taxes, he added.
 
Buyers at disadvantage
 
While the tightened control on car imports has made it difficult for local traders, domestic carmakers, who have enjoyed Government protection, continue to fail to meet customer demand.
 
Car manufacturers are behind schedule to fill orders for tens of thousands of cars, with some refusing to take orders until the end of the year.
 
According to the Finance Ministry, there is currently a 3-6 month waiting period for those wanting to buy a Toyota or Honda car manufactured in Vietnam.
 
Car makers attribute the auto shortage to a sudden increase in demand, their dependence on spare-parts suppliers, and a plan to cut production this year by 10-20 percent.
 
However, some customers said that by offering an additional $5,000, they can get a locally made car faster.
 
Many said it's unfair that local carmakers have enjoyed preferable treatment from the Government while continuing to sell their cars at high prices and failed to meet the demand for their products.
 
Before the new price list was issued, the Vietnam Automobile Manufacturers' Association had complained that auto importers were falsely declaring low prices on their vehicles, which hurt both the association and State exchequer.
The association reported to the Finance Ministry that some importers were intentionally setting invoice prices much lower than the actual selling prices to reduce their tax obligations.
The association said the Matiz-796 by GM Daewoo, for instance, was priced at US$6,000-7,000 but declared at $2,700-3,000 at Vietnamese ports. The car was then sold to local customers at $11,800-14,900.
The Government has lost considerable revenue from import duties and taxes to the fraudulent trade, the association said, requesting that the Government focus on investigating and finding solutions to the problem.
Imports of fully-constructed vehicles accounted for 28 percent of total auto sales last year and had increased to 32 percent in the first eight months of the year, compared to just 20 percent in 2006, according to the association.
The Vietnam Automobile Manufacturers' Association, which gathers 16 local and international assemblers, forecasts this figure will rise to 45 percent of total sales this year.
Related article:
Auto joint ventures profit from Government policy