Total automobile sales in February fell 13 percent from a month earlier to 17,621 units, according to Vietnam Automobile Manufacturers' Assocation (VAMA).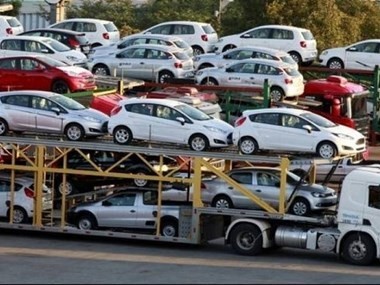 Auto sales slide 13 percent due to low post-holiday demand. (​Photo: autobikes.vn)
Out of the total, 10,044 units were passenger cars, down 32 percent; 6,344 units were commercial vehicles, up 24 percent; and 1,233 units were special-purpose vehicles, up 220 percent, VAMA said in a report released on March 8.
The February sales of completely-built units (CBUs) were at 14,560, a decrease of 6 percent against January, while more than 3,060 complete knock down units (CKD) were sold last month, down 35 percent.
Domestic manufacturer Truong Hai Auto Corporation (Thaco) led VAMA members with 7,724 units sold, a year-on-year increase of 85 percent. The car maker and importer accounted for 45 percent of the country's market share.
Thaco was followed by Toyota Vietnam with 3,579 units, up 51 percent year on year and representing 21 percent of the market share.
Ford Vietnam came third with 1,881 units, up 26 percent year on year and accounting for 11 percent of the market share.
Total automobile sales in the first two months of 2017 rose 8 percent from the same period last year to 37,851 units with passenger cars and special-purpose vehicles up 21 percent and 5 percent, respectively, while commercial vehicles dropped 11 percent. The number of CBUs sold expanded 13 percent while CKD slid 5 percent.
The contractions in February sales were largely due to lower demand for cars after Tet, the biggest holiday of the year which usually witnesses peak demand for cars.