The Civil Aviation Administration of Vietnam has asked Indochina Airlines (ICA), whose license has been revoked on financial grounds, to clarify by January 29 how it plans to refund ticket monies.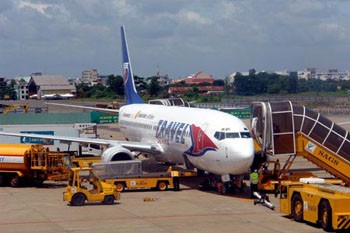 The Vietnam Civil Aviation Administration has asked Indochina Airlines, whose license it has revoked, to come up with a solution by January 29 for refunding people who have booked tickets (Photo: VNN)
It has also asked for a report on ticket sales which continued until January 20.
The action follows a siege of the carrier's offices by hundreds of passengers who demanded refund of their ticket money.
Around 1,000 people are yet to get refunds.
The head of the administration's Transport Department, Vo Huy Cuong, said January 27 the airlines has also been ordered to stop all promotional activities.
The administration recently revoked Indochina's license after it failed to improve its financial position after months of struggle.
It has been unable to pay debts it owes several parties.
Indochina Airlines is the second private carrier in the country, beginning operation in 2007.