The Ministry of Finance (MoF) has officially issued a bailout package with five specific solutions to support enterprises to deal with economic difficulties.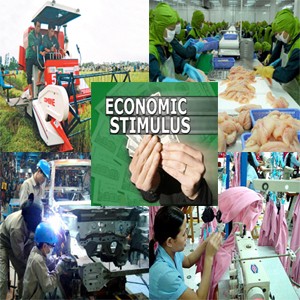 The move was taken when a large number of companies have suspended production, scaled down operation and gone bust.
*A string of difficulties
The latest report published by the MoF showed that in Q1 there were over 18,700 newly-established enterprises, down 10.2% against the same period in 2011. Around 10,350 enterprises went bankrupt, dissolved or suspended operation, up 14.8% against last year.
As of late Q1, the country is home to 445,500 businesses, posting a year-on-year increase of 5.7% and 1.1% increase against late 2011.
The MoF also revealed that in the first three months, the revenue of goods and services dropped by 7% against last year, of which SOEs saw 14% decline; private sector 21% down; except for foreign-invested area with 24% surge.
The amount of collected VAT was estimated at over VND 33 trillion, up 6% against the same period last year but reaching the record low against those in recent years.
Especially, as of late February, corporate tax debt went up 28.5% against December 31, 2011 of which foreign-invested area up 25.7%; private sector up 13.9% and SOEs up 4.3%. Real estate, transportation, production, electricity production, fuel, agro-forestry and fishery, mine exploitation, food and beverage, restaurant had the biggest corporate tax debt.
*Bailout package
In the wake of numerous obstacles, the MoF introduced the bailout package with five specific solutions on macro-management; public spending; tax and fee; price regulation and subsidy and reform of tax administrative procedures.
Firstly, the macro-management group focuses on flexible monetary policy; reduction of interest rates in line with liquidity situation of the banking system and CPI indexes and restructuring of priority credit for the areas of agriculture, rural area development, export-oriented production and auxiliary industries.
Secondly, regarding the group of public spending, the MoF proposed putting aside VND 1 trillion to upgrade dykes and canals and develop rural transport infrastructure.
Thirdly, all enterprises will enjoy a six-month extension for value-added tax payment of April, May and June and 50% reduction of land rent.
The time of road maintenance fee collection will be delayed until December 31, 2012 to ease difficulties for businesses and people.
The Ministry proposed lowering corporate tax by 30% in 2012 for small and medium-sized enterprises or labor-intensive ones operating in the fields of agriculture, forestry, aquaculture, garment and textile among others.
The fourth group will center on price regulation especially input production materials, oil and petrol as well as power.
Fifth, the MoF will strengthen the administrative reform on tax and customs in a bid to minimize costs for businesses./.
By Huong Giang (VPG)