The Vietnam Report Corporation yesterday announced officialy the list of 10 most prestigious Vietnamese Commercial Banks in 2016.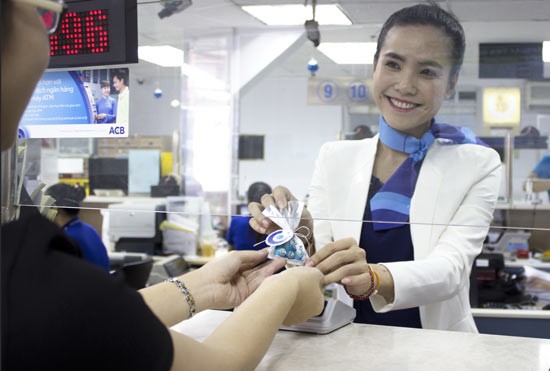 ACB -one of 10 most prestigious commercial banks in 2016 -Photo: SGGP
Banks which are ranked in the top group based on three main factors including financial capacity through the latest financial report; having prestige to media organizations & appreciated by media coding and survey from consumers of banking products and sevices.
In addition, the capital & revenue growth rate are aslo two more factors to evaluate the bank's position.
Accordingly, 10 banks which have finance capacity, business experience, growth potentiality and receiving active appreciation on quality of products and services for the term 2015- 2016 include,

1. Vietnam Joint Stock Commercial Bank for Industry and Trade (Vietinbank)

2. The Joint Stock Commercial Bank for Investment and Development of Vietnam (BIDV)

3. Joint Stock Commercial Bank for Foreign Trade of Vietnam (Vietcombank)

4. Asia Commercial Joint Stock Bank (ACB)

5. The Vietnam Technological and Commercial Joint Stock Bank (Techcombank)

6. Military Commercial Joint Stock Bank (MBBank)

7. Saigon Thuong Tin Commercial Joint Stock Bank (Sacombank)

8. Tien Phong Joint Stock Bank (TPBank)

9. Saigon- Hanoi Joint Stock Bank (SHB)

10. Saigon Commercial Joint Stock Bank (SCB)