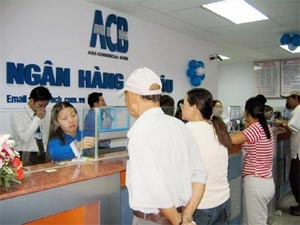 Customers at an ACB unit
Asia Commercial Bank said it posted 2009 pre-tax profit at almost VND2.82 trillion (about US$153 million), VND118 billion higher than the year target.
The Ho Chi Minh City-based banking group said in a statement issued Jan. 14 that one-fifth of the profit came from credits, a quarter from shares, equities and valuable papers, another quarter from investment and money business, and the balance from other activities.
ACB said lending soared by 81 percent in the end of last year, compared with the beginning of the year. The bank also reported bad debts at only 0.41 percent.
The banking group said its total assets reached VND171.95 trillion, increasing by 63 percent from 2008.
Last year, ACB was picked as the best bank of Vietnam 2009 by six banking magazines namely Asiamoney, FinanceAsia, Euromoney, Global Finance, The Asset, and The Banker.