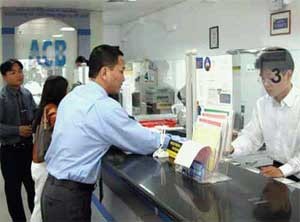 A local applies for loan at the Asia Commercial Bank.(Photo:TK)
The Asia Commercial Bank announced yesterday that it has implemented a new lending service that will grant loans to clients within 24 hours of receiving an application.
With credit terms ranging from 6 to 36 months, the loans can be as high as VND300 million, or 40% of the borrower's collateral.
To qualify for a loan, clients must be local residents or business owners, must own a house in Viet Nam with a minimum area of 40 square meters, or have a minimum monthly income of VND3 million.