Asia Commercial Bank (ACB) has promised to revise its gold withdrawal limit after investors expressed strong opposition to last week's decision to reduce the limit.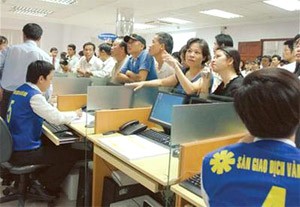 Transactions conducted at the Saigon Gold Exchange run by Asia Commercial Bank
ACB announced on Sept. 12 that investors trading on the bank's gold exchange can withdraw only one tael of gold per day instead of three taels beginning Monday. A tael equals 1.2 troy ounces.
 
This is the fourth time this year the Ho Chi Minh City-based bank has reduced the limit. The limit was reduced from 20 taels to 10, then to five and finally to one.
 
What frustrates investors is that ACB says this regulation will apply even after customers stop gold trading with ACB. This, according to investors, is an act of appropriating the investors' capital.
"I need to withdraw gold to buy a house, but I can take only one tael a day," an investor said. "When will I have all of my 500 taels withdrawn and what will happen if the bank continues to change the rules in the future?"
 
As many as 20 investors visited the bank's headquarters yesterday to demand explanations about the limitation on gold withdrawals.
 
The investors think that the limit on withdrawal volume means that they cannot take the initiative in their investments though they have paid all transaction fees.
  
The investors suggested the bank apply the old limit of three taels per day.
 
At the end of the meeting, Pham Trung Cang, vice chairman of ACB, pledged that the investor's questions at the meeting will be considered, and a response will be issued within a week.
 
Ly Trung Hai, ACB general director, affirmed that the bank is not lacking gold and transactions on ACB's gold exchange are conducted in physical gold.
 
Many banks are rushing to establish gold exchanges to cash in on the thriving business now dominated by ACB.
 
There are four gold exchanges in the city and two more are expected to open this year. However, many investors prefer trading at ACB's gold exchange because it is more liquid.
 
The decision by the bank has once again raised the question: Who protects the interests of gold investors? Many gold trading floors have been established, but no legal framework has been drawn up to protect investors.
 
Prime Minister Nguyen Tan Dung ordered the establishment of a taskforce responsible for surveying and compiling the regulations for gold trading floors' operations in May, Mr. Nguyen Van Giau, governor of the State Bank of Vietnam, told Thoi bao Kinh te Viet Nam newspaper on Sept. 14.
 
On Sept. 12, a report was submitted to Mr. Giau, which is expected to submit to the prime minister. It is highly possible that Mr. Dung will respond by issuing instructions for regulations next week.
 
While waiting for a legal framework to take shape, gold investors still have to follow the rules set by those who organize the trading floors.