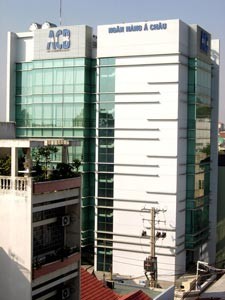 ACB's headquarters in Ho Chi Minh City. (Photo: T.C)
In order to raise additional capital to prepare for economic integration and the bank's development strategy through 2010, the Asia Commercial Joint-stock Bank (ACB) has revealed to its shareholders and the State Bank of Viet Nam (SBV) a plan to issue VND3,000 billion (US$187.5 million) worth of convertible bonds at par value to existing shareholders.
ACB plans to issue VND1,650 billion worth of the bonds in Q4 this year and the remaining VND1,350 billion in 2007. The bonds will pay annual interest of 8%.
For the 2006 issuance, shareholders will have the right to buy 1.5 convertible bonds at par value (VND1 million/bond) per ACB share owned. In 2007, VND1.1 billion worth of bonds will be converted to common stock at the ratio of 1:1. The bonds remaining will be converted in 2008.
ACB shares are currently trading at VND13 million each (13 times greater than the par value) in the OTC market.
As of August 24, ACB had assets of VND35,531 billion, outstanding loans of VND13,402 billion and deposits of VND29,816 billion. The bank posted a pre-tax profit of VND358.6 billion.
Related Articles:
Commercial Banks Rush To Expand
ACB Seeks Permission to Float
Asia Commercial Bank Vietnam Expanding, Receives Awards