ACB Securities, the stock broking arm of Asia Commercial Bank (ACB), recently received the "most famous brand in the financial and securities sector in 2008" award, which was organized by the Vietnam Chamber of Commerce and Industry (VCCI) and Nielsen Vietnam.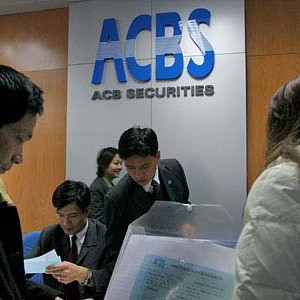 Customers buying stock at one of ACBS' trading floors.
The award was based on a survey about brand label awareness by consumers.
ACBS has been building its brand name for many years with a list of diverse products, wide distribution network and skillful staff.
Currently, ACBS total capital is some VND2.3 trillion, including one head office, seven branches and 24 order-receiving agencies nationwide.
ACBS coordinated with ACB to allow share-dealers to withdraw the money they made from trading on the day they trade, with a maximum withdrawal of VND50 billion.
The customers will also be able to use advances for many other purposes, such as buying stock, cash withdrawal, transfers and payment services and goods.