The Asian Development Bank's (ADB) Trade Finance Program and two Vietnamese banks—Ho Chi Minh City Development Bank and Sai Gon-Ha Noi Commercial Joint Stock Bank in Hanoi yesterday signed agreements enabling the program to provide guarantees of up to US$100 million a year to support trade finance in Vietnam.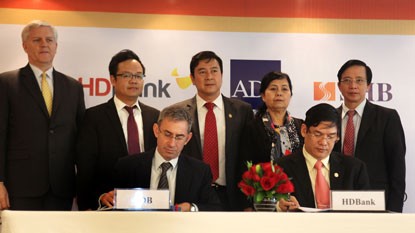 (Photo: Courtesy of ADB)
"Under these agreements, ADB and new Vietnamese bank partners will support exporting and importing companies, including small and medium-sized enterprises," said Steven Beck, ADB's head of trade finance. "This agreement will help create economic growth and jobs."
Ngo Thu Ha, deputy director of SHB said that the cooperation will help developing her bank's commercial activities in the future promising to use effectively ADB's financial aids to offer more services to customers.
Since 2009, the program has conducted 4,303 transactions, supporting $6.5 billion in trade in Vietnam.