The Bank for Agriculture and Rural Development (Agribank) has cut lending rates for small- and medium-sized companies.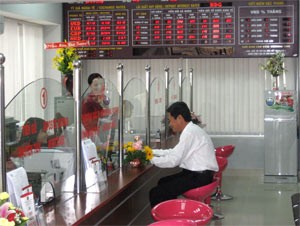 Transaction conducted at an Agribank branch in Ho Chi Minh City
Nguyen The Binh, general director of the bank, said the rate for agricultural loans would be to 14.4 percent and for small and medium manufacturers and exporters, 15 percent.
 
The rate cut is aimed at assisting over 10 million farm households and 30,000 companies ahead of the winter-spring crop.
                                                       
The central bank last week cut prime interest rate by 1 percent to 12 percent as part of its continuing efforts to loosen monetary policy to head off deflation.