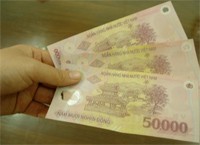 Polymer Viet Nam dong bills have been published from December 7, 2003 to prevent counterfeiting. (Photo: Hoang Yen)
The Governor of the State Bank of Viet Nam, Le Duc Thuy, has just signed a decision to establish an anti-counterfeit money division, which is under the management of the Publishing and Treasury Bureau of the State Bank of Viet Nam. 
This division specializes in examining counterfeit money and counterfeit suspected money, in training skills and knowledge of money inspection and recognition. The division has responsibility to inform and guide organizations and individuals to identify counterfeit money, true money and to protect Vietnamese currency etc.