The Vietnamese Government's recent measures to contain inflation will be effective in the long term, said Mr. Ayumi Konishi, Asian Development Bank's country director for Viet Nam, in a lecture at Singapore's Institute of Southeast Asian Studies.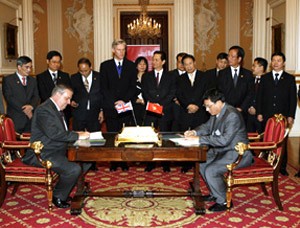 Pham Huy Hung (R), chairman of Vietnam Industrial and Commercial Bank signs a memorandum of understanding with Ray Ferguson, Standard Chartered Bank's regional general director for Southeast Asia, under the witness of Prime Minister Nguyen Tan Dung
Mr. Konishi said the market reacted sharply right after the State Bank of Viet Nam raised compulsory reserve and interest rates for the commercial banks.
Measures aimed at the macroscopic level are essential to cope with inflation and the trade deficit. These measures will win the trust of investors thanks to the country's potential for growth in the medium and long- terms, he added.
Volatility in the financial markets is necessary for "consolidation," so that Viet Nam can address key issues such as inflation and its widening current account deficit, he said.
Economic growth is likely to exceed 8 percent this year even if there is an economic downturn in the US, Mr. Konishi added.
Benedict Bingham, the International Monetary Fund representative in Viet Nam, recently praised the government for placing a priority on stabilizing the country's macro-economic situation.
The tighter monetary policy initiated by the central bank early this year is an appropriate response to increases in the inflation rate and trade deficit, he said.
Although inflation is at its highest levels in 12 years and the trade deficit tripled in the first two months of 2008, economists still believe in the potential of Viet Nam's economy, which is growing at the rate of 8 percent a year and is attracting record levels of foreign investment.
Viet Nam's price hikes will not influence the development plan of the Australia and New Zealand Bank, said Alex Thursby, ANZ's Asia Pacific director, at a ceremony marking the 15th anniversary of the bank's operations in Viet Nam.
"We believe in Viet Nam's future as well as in its long-term development prospects," he said. "ANZ is optimistic about the country's economy and will continue to invest in this market."
Fluctuations in the Vietnamese market are similar to those of other emerging economies in Asia, and they are only temporary, he added.
ANZ will continue to develop products such as credit cards, mortgages and real estate loans lending during the next 12-18 months, he said.
"Standard Chartered Bank considers Viet Nam a key growth market in Asia and believes it will have an increasingly powerful economic role in the region," said Ray Ferguson, SCB's regional general director for Southeast Asia, during Prime Minister Nguyen Tan Dung's visit to Britain on March 4.
"We are strongly committed to the development of the banking industry in the country and in aggressively growing our presence," he added
SCB will open 20 to 30 new branches in Viet Nam over the next three to four years, he added.
The British-based SCB has offices and branches in Ha Noi and Ho Chi Minh City and is a strategic partner of Asia Commercial Bank, Viet Nam's largest private owned bank, in which it owns a nine percent share.
During Mr. Dung's visit, SCB signed a memorandum of understanding with the Vietnam Industrial and Commercial Bank to explore cooperation in areas such as settlement services, inter-bank lending, loan syndication, rating advisory, bond underwriting and fund raising. The agreement has a value of up to US$600 million.