Bank ANZ Viet Nam has celebrated its 10th anniversary, promising to continue to deliver many more services in the years ahead.
"For example, in corporate banking, we will support the development of the local bond market and roll out Internet banking with fully payments," Philip Crouch, ANZ Viet Nam's general manager for Ho Chi Minh City, said at the anniversary ceremony in the May 12 evening.
He added, "In personal banking, we will issue Visa debit cards in August, which will be widely accepted both in Viet Nam and globally. We will upgrade our ATMs to pay out in 100,000 Vietnamese dong notes next week. In July, you will see more ANZ ATMs around town [in Ho Chi Minh City]."
He said ANZ Viet Nam would keep developing its products, services and distribution channels. 
At the ceremony, the bank acknowledged some of its most loyal customers, who are among those that opened accounts with it in the first year of operations. These customers include Coast Phong Phu Co., Phong Phu Textile Co., Southern Steel Corp., Vinamilk, Holcim Viet Nam and the Australian Consulate General.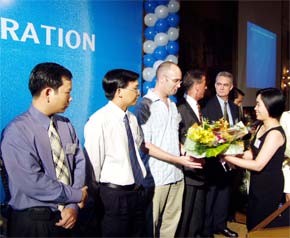 ANZ Viet Nam general manager Thuy Dam (R) presents her bank's awards to the customers (Photo: Tuong Thuy)
ANZ was one of the very first foreign banks to establish a presence in Viet Nam with the opening of a branch in Ha Noi and representative office in Ho Chi Minh City in 1993. Early in 1996, it received the approval to open a second branch, thus upgrading the Ho Chi Minh representative office to its second branch. It is also operating a representative office in the Mekong Delta's Can Tho City.
ANZ Viet Nam has six ATMs and 19 ATMs on alliance with Sacombank, a Vietnamese bank.
Link
ANZ Viet Nam