The Asia Commercial Bank says it has made a profit of more than VND430 billion (over US$26.87 million, current rate) between January and September, equal to 77% of the year target, which is VND555 billion.
CEO Ly Xuan Hai said now that more than three-fourths of the target was obtained, it is quite possible to complete the year's goal or obtain a better performance.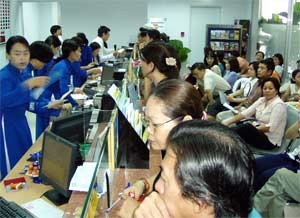 ACB's offices are often crowded with customers as seen in the photo (Photo: Tuong Thuy)
By the end of September, the Ho Chi Minh City-based bank reported total deposits at almost VND31.9 trillion and total loans at nearly VND14.5 trillion.
On Tuesday, the bank opened a transaction office in Tan Phu District of Ho Chi Minh City, raising its total of branches and transaction offices nationwide to 71.
The bank, whose trading name is ACB, had earlier been permitted to put its shares on the Viet Nam stock exchange and is seeking to make it before the year-end. If so, it will be the second bank in Viet Nam to do this after Sacombank, also based in Ho Chi Minh City.
ACB and Sacombank are among leading banks in Viet Nam, whose banking industry is seeking to better compete against growing international competition as the country is expected to join the World Trade Organization later this year. When in the WTO, Viet Nam will allow more foreign banks to set up branches and provide many more financial services.

Related link
ACB