The Ho Chi Minh City-based Asia Commercial Bank's (ACB) total assets exceeded VND33.781 trillion (over US$2.11 billion) near the end of July, up 82% year-on-year, CEO Ly Xuan Hai revealed at a July 28 HCMC dinner announcing the bank's two most recent awards.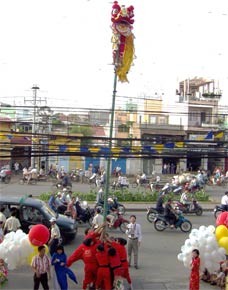 A lion dance troupe celebrates ACB's network expansion in Ho Chi Minh City (Photo: Tuong Thuy)
Mr. Hai said by July 24, his bank had drawn total deposits of over VND28.453 trillion (US$1.778 billion) on the year, posting pre-tax profit of VND336 billion ($21.13 million) and constituting an 68% increase in deposits and a 63% increase in pre-tax profit year-on-year.
"These figures indicate that we will continue to further develop in the last half of the year," he said.
Early this month, ACB was named the best bank in Viet Nam in 2005 by Euromoney Magazine, a leading journal of global capital and money markets.
The magazine selected ACB for the award in high praise of the bank's foresighted development strategy, its initiation of innovative banking products, its proper investment in human resource training, and its overall financial outcome.
In June 2006, ACB was named Viet Nam retail bank of the year 2005 by The Asian Banker, one of the most prestigious financial and banking magazines in the world.
The Asian Banker presented the honor to ACB for the maintenance of its quality reputation and trademark, its financial outcomes, transparency in development strategy, risk management abilities, initiative in new banking products, and human resource development.
Also at the July 28 dinner, ACB annouced that due to its business achievements last year, it had also been named "Best Bank of Viet Nam in 2005" by the UK's Financial Times last September.
CEO Hai said that ACB aims to become the leading retail bank in Viet Nam, and has been continuously developing its products and services and expanding its operations throughout Viet Nam to meet the demands of a wide range of customers.
Mr. Tran Minh Tuan, deputy governor of the State Bank of Viet Nam, said at the party that ACB should serve as a good example for Vietnamese banks to sharpen their competitive edge while Viet Nam prepares to join the World Trade Organization. He stressed that local banks will meet many survival challenges in the global competition that will ensue once Viet Nam becomes a WTO member.
In related news, American giant Citigroup has recently honored Sacombank, another commercial bank based in Ho Chi Minh City and the fist bank to list its shares on the Vietnamese stock market, by recognizing it as meeting Citigroup's international standards for payment services.
Related articles
The Asian Banker Picks ACB as Best Retail Bank in VN
Sacombank's Shares Make Debut in HCMC Bourse

Links
Euromoney
Asia Commercial Bank
Sacombank