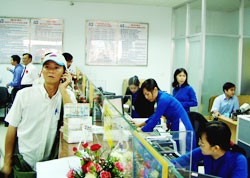 A client carries out cast transaction at the Asia Comercial Bank
Commercial banks in Viet Nam now have to follow the International Accounting Standard (IAS) in auditing their banking activities, under a document on financial reports, signed by the Governor of State Bank of Viet Nam, Le Duc Thuy on Oct. 6.
Under the document, Vietnamese commercial banks have to hire foreign auditing organisations to check their 2005 financial activities, and send the IAS report to the State Bank of Viet Nam by October 31. The IAS has only been in use since earlier this year.
Though the regulation does not apply to them, Viet Nam's joint-stock commercial banks, joint venture banks, and foreign bank branches are being encouraged to carry out their audits under the IAS.
If these banks have audited their 2005 financial activities under this standard, they must send their reports to Banking Department and Non-banking Credit Institution of State Bank by October 31.
The document also regulated that the financial reports from the commercial banks must be sent to the State Bank of Viet Nam within 30 days of their official issue.-

Source: VNA