Governor of the State Bank of Vietnam (SBV) Nguyen Van Binh affirmed that it was feasible to continue lowering loan interest rate by about 1.5-2 percent for medium and long terms at a meeting in Hanoi yesterday.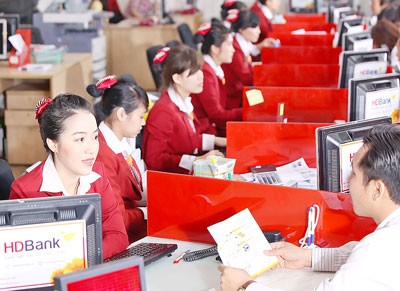 (Photo: SGGP)
The banking industry tried to reduce average interest rates by 1.5-2 percent last year.
They will focus on lowering medium and long term interest rates to stimulate production and trading development, said the Governor.
In addition SBV has set a target for 15 percent credit growth rate this year. It is found higher than last year target of 12-14 percent because credit demand was very low at that time but has been much improved this year, he said.
The credit growth target might be extended to 17 percent in the second half 2015 because fuel prices have sharply reduced affecting several fields of the economy, he said.
According to preliminary calculations if the world crude oil price drops below US$60 a barrel this year, Vietnam's exploitation output will have to reduce about 1.5 million tons. This might cause the Gross Domestic Product fall about 0.2 percent. Therefore more bank loans will be needed to develop other production and trading activities to make up the reduction.