The Government's resolution on financial system restructuring for the phase 2011-2015 has been implemented for the last three years and achieved success but its progress has been slow. The State Bank of Vietnam (SBV)'s circular 36 issued last November has put more pressure on cross ownership reduction among banks and been expected to speed up M&A activity this year.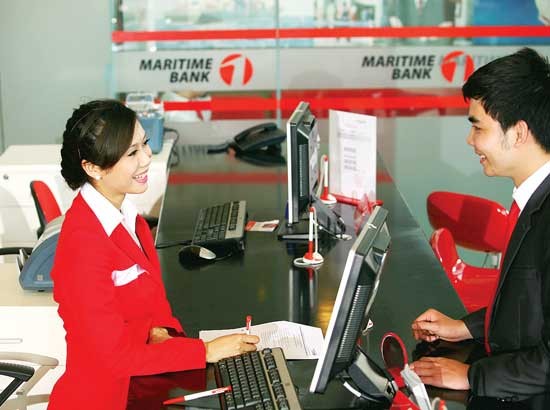 Maritime Bank and Mekong Development Bank are expected to merge in 2015. The SGGP photo shows transactions at Maritime Bank
The restructuring program has brought more achievements in the banking sector than in two other fields including state own enterprises and public investment.
As of October last year the total asset value of joint stock commercial banks rose VND160 billion against the previous year to reach VND2,624 trillion. Meantime the asset value of state commercial banks reduced nearly VND6.5 trillion to VND2,172 trillion. Joint venture and foreign banks' asset value dropped VND7,331 billion to VND619,112 billion.
Available funds of the banking system rose over VND497 trillion. Capital adequacy ration (CAR) hit 13.22 percent, far higher than the permissible level of 9 percent. These numbers show positive results from the credit institution restructuring. However its progress has been slow.
At the end of 2011 the first three joint stock commercial banks were merged into Saigon Commercial Bank (SCB). Afterwards six out of nine weak joint stock commercial banks were handled. Habubank was merged into Saigon-Hanoi Bank in 2012.
Last year there were no considerable moves in the restructuring program.
Governor of the State Bank Nguyen Van Binh has recently affirmed that the banking system would enter the second restructuring phase from 2015. The first half of the year will be peak time when SBV has mandatory interventions to tackle weak banks that are unlikely to recover and develop. They might be dissolved, merged or go bankrupt.
Official information related to M&A deals this year has not been revealed. However financial experts forecast that the first deal will be Sacombank – Southernbank or Maritime Bank -  Mekong Bank because they have the same majority shareholders.
Singapore's United Overseas Bank (UOB)'s purchase of 100 percent stake of GPBank has been much discussed since last year.
Nam A Bank revealed that it is going to merge into another bank to increase the competitiveness in the market after raising its chartered capital and listing on the stock market.
Vietcombank shareholders have also approved the merger policy with Saigonbank at an unusual shareholders' meeting. Vietcombank is the largest shareholder of Saigonbank with an ownership rate of over 8.2 percent.
BIDV is expected to merge with another bank possibly Mekong Housing Bank and Vietinbank is likely to merge with Oceanbank or PGbank.