The bank restructuring project of the Prime Minister has entered the finishing sprint this year, so the State Bank of Vietnam (SBV) has taken drastic actions to tackle weak banks who have been unable to restructure themselves.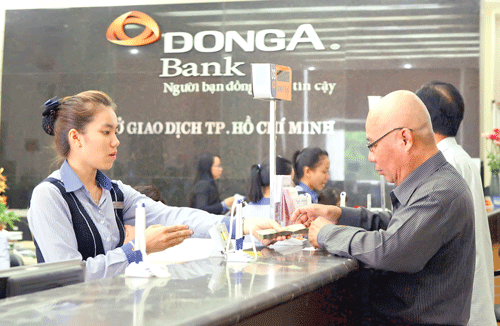 SBV has put Dong A bank under special surveillance (Photo: SGGP)
Since the first merge and acquisition (M & A) deal in which Saigon Commercial Bank (SCB), Tin Nghia Bank and First Joint Stock Commercial Bank (Ficombank) were merged in 2012, this activity has been hotter with many done deals.
 
The longest deal is Southern Bank and Saigon Thuong Tin Commercial bank (SacomBank), in which SBV has approved in principle a merger. It is expected that the trade name Southern Bank will be no longer in use by the end of this year.
 
Besides, the Bank for Investment and Development of Vietnam (BIDV) has acquired Mekong Housing Bank while Maritime Bank has taken over Mekong Bank.
 
M & A has reduced the number of banks from 42 to 34 since 2011 when the project was implemented, aiming to form at least 1-2 banks with regional scope and standard by the end of this year.
 
Chartered capital at SCB has increased from VND10.58 trillion to VND12.25 trillion after two years of the merger in 2014.
 
Sacombank's chartered capital will top VND18.85 billion and total asset will reach VND290.86 trillion after merger making it among top five commercial joint stock banks of Vietnam.
 
So far, eight out of nine weak banks defined in the first phase of the restructuring project have disappeared in the market including Habubank, SCB, Tin Nghia Bank, Ficombank, TP Bank, Trust Bank, Navi Bank and GP Bank.
 
The time for banks to voluntarily structure has elapsed and SBV has taken drastic actions to complete the project in the final spurt.
 
'Iron hand' campaign
 
With purposes to prevent risks from affecting the financial market, the banking system and residents, SBV has decided to purchase and nationalize three banks at 0 dong including Vietnam Construction Bank (VNCB) or former Trust Bank, Global Petrol Bank and Ocean Bank to prevent them from going bankruptcy in the first half of 2015.
 
Mid August, SBV continued announcing inspection results to Dong A Bank, subsequently suspended the bank director general and deputy and replaced them with two officials from BIDV.
 
On the same time, the State Bank made another announcement that Sacombank's board of director chairman Tram Be has voluntarily pledged to ensure shareholder's rights and interests to all shares as per the law and Sacombank regulations. Therefore, he will not participate in management of Southern Bank and SacomBank after the merger completes.
 
SBV will appoint personnel to manage the new bank, ensuring it operate effectively and safely, according to the announcement.
 
Governor Nguyen Van Binh says that the inspection over Export Import Bank (Eximbank) has wrapped up and it might organize an extraordinary shareholders' meeting this month.
 
Vietcombank is holding 8.2 percent shares of Eximbank, hence SBV might will take human resources from the former to manage the later this year.
 
Director General of Eximbank has affirmed that the bank is operating stably without any special control from the State Bank.
 
The booming phase of bank establishment has gone by and the State Bank is now heavy-handed to weak banks to make the banking system healthy and ensure deposits' rights.
 
The process has showed increasing of stated-originated commercial joint stock banks and narrowness of privately commercial banks.
 
Large banks such as Vietcombank, Vietnam Bank for Industry and Trade (Vietinbank) and BIDV have performed their roles in restructuring underperformance banks.
 
Implementation of the restructuring project was both voluntary and obligatory. Therefore, the State Bank would apply strong measures to handle weak banks without recovery and development prospects including bankruptcy, dissolving and obligatory intervention, said Governor Nguyen Van Binh.