"Technology Modernization in the Stable Development of Viet Nam Banking Systems" is the main theme of Banking Viet Nam 2006, which is an annual destination and premier event for international and local ICT managers, policy makers and solution providers from banking, financial & technology industry to discuss the latest technology development and research the breakthroughs involving international banking.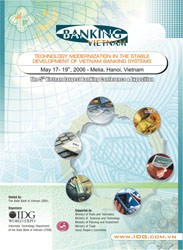 Logo of Banking Viet Nam 2006
Globalization creates motivations for banking reform in Viet Nam. It opens opportunities to Vietnamese banks which can take advantages of capital, modern technology and management experiences to develop comparative advantage of Vietnamese banking and to catch up with the international competitors and reach out to foreign markets.
Over 40 scientists, managers, experts and businesses working in local and foreign banking, financial, economic and information technology are expected to speak in the Banking Viet Nam 2006 seminars on the following topics:
1. New policies on Information & Communication Technology (ICT) and banking
2. Problems posed for ICT and banking communities when Viet Nam joins WTO
3. Selection and set up of development standards for ICT for banking sector

4. Security and safety of networks and banking database systems with the development of global e-commerce and internet

5. Automation tendency of paying system for stably growing economies

6. Application systems in operations of commercial banks and the rapid development of banking service types on the basis of protecting banks and customers' interests

7. Maintaining and developing human resources in science and technology together with developing CIO force

8. Risks in ICT systems - the issue that requires attention of different levels and commercial banks

9. The role of Information technology in solving the problem of minimizing non-cash payment

10. Major issues in developing information technology in banking for the successful implementation of direction number 58 of the Politburo in period 2006-2010
Banking Viet Nam is an annual forum since 2002. It is anticipated that over 2,000 turns of people will take part in the seminars of Banking Viet Nam 2006.
Related Link:
The International Data Group in Viet Nam