Vietinbank, Vietcombank and Agribank told the Central Bank at a meeting April 2 they can set a negotiable interest rate cap of 14 percent per year for short-term loans and 14-15 percent for medium- and long-term loans.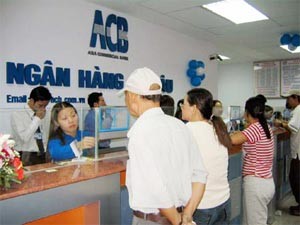 At an ACB branch in Ho Chi Minh City
Governor Nguyen Van Giau said that if big commercial banks can ensure such rate bands, other banks should follow suit to establish order on the monetary market.
"If loans are granted at high negotiable rates, risks will be very high," he added.
At the meeting, commercial banks were in agreement with the Central Bank's negotiable interest mechanism applied for highly effective production and business projects.
Regarding deposit rates, the governor asked the Vietnam Banks Association to call on its members to lower rates.
He said the rates will be kept stable at present but reduced gradually in the future, adding that concrete rates and measures will be discussed by the association.
Governor Giau told Sai Gon Giai Phong that member banks have negotiated to offer the maximum deposit rate of 10.5 percent per year. But according to surveys, adding promotional offers, the rate offered by some big banks is 11 percent, while it is 12 percent by joint stock banks.
Banks need to slash their rates, he added.
The negotiable interest mechanism and setting the monetary market in order are some of the measures adopted by the Government to achieve the target economic growth rate of 6.5 percent set for this year.