Nguyen Van Giau, Governor of the State Bank of Vietnam, has called on credit organizations and foreign bank branches in Vietnam to tighten control measures on credit activities in 2011.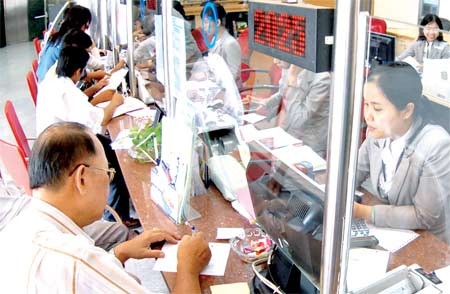 Transactions conducted at a Southern Bank branch in Ho Chi Minh City (Photo: SGGP)
He asked banks to make plans and manage to hold credit growth rate in 2011 at less than 20 percent, in line with the Government's Resolution 11 for curbing inflation, stabilizing the macro-economy and ensuring social welfare. The interest rates must also be adjusted appropriately.
Under current regulations, banks give loans in foreign currency but when they strike a balance, they have to covert the loans into Vietnamese dong according to inter-bank interest rates.
Therefore, the interest rate rise of 9.3 percent in February 2011 pushed the growth rate of foreign currency credit by 7.3 percent.
As per central bank directive, commercial banks are not permitted to post a higher credit growth but have to reduce loans.
According to the Central Bank, credits of the total banking system increased 3.67 percent in the past three months, of which local currency credit grew 1.43 percent and foreign currency credit hiked 12.06 percent.
The State Bank also determined that loan agreements signed in 2010 but disbursed in 2011 would be counted in current-year credit growth total.
Last year, credit growth reached 27.65 percent, overshooting a target of 25 percent and pushing outstanding loans to 140 percent of gross domestic product (GDP).
Commercial banks were asked to reduce the proportion of loans given to non-manufacturing sectors.
Pursuant to the State Bank's Directive No.1, the ratio of non-manufacturing loans against total outstanding loans must not exceed 22 percent by June 30 and 16 percent by the end of the year.
If banks fail to reduce the ratio of non-manufacturing loans by this time, they will be forced to double their compulsory reserves and restrict their business circle in the second half of 2011 and in 2012.
The State Bank reiterated that credit this year should prioritize lending for manufacturing, agricultural production, rural development, small and medium sized enterprises, and support industries and exporters.