After some banks were found to collect additional hidden fees on ATM cards and other services, the State Bank of Vietnam issued a strict directive to financial institutions to stop charging customers on withdrawal of money from ATM's, with immediate effect.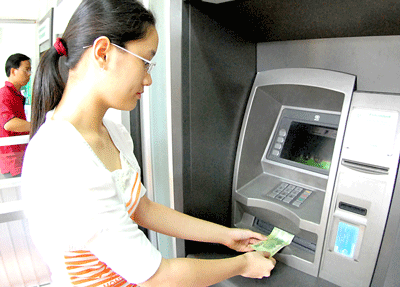 Client withdraws money from an ATM machine on Bui Thi Xuan Street in District 1, HCMC (Photo: SGGP)
Bank clients have had to bear an assortment of fees, namely, issuance fee of VND100,000 (US$ 4.79); lost card issuance fee of VND60,000; personal identification number (PIN) re-issue fee of VND50,000; change in PIN fee of VND1,650; card replacement fee of VND100,000; account management fee of VND300,000; external withdrawal transaction fee of VND9,000; external transaction fee from VND1,650 to 0.05 percent of the total sum; viewing account balance and transaction fee of VND1,650; printing of transaction receipt fee of VND1,650; quick issuance of ATM card fee of VND200,000; account statement fee of VND10,000; and e-banking service fee of VND20,000.
Vo Huy, a resident of District 1 in Ho Chi Minh City, said he had several ATM cards but he now has two ATM cards as he did not want to pay so many additional costs on withdrawal of money each time.
Huy says he would pay for the extra charges provided banks also increase their facilities and services. While clients remain dissatisfied, banks quietly keep adding hidden fees and costs such as on money withdrawal from other bank ATM's, account statements and money transfers, without even notifying clients.
For instance, Huy has to pay VND20,000 for receiving an account statement from Dong A Bank, yet he does not even receive a statement regularly, even though the bank service specifies it. He has to go personally to the bank to collect the statement each time and pay a fee of VND1,650.
Nguyen Trung Linh in Tan Binh District is angry as the ATM machines of the Vietnam Bank for Agriculture and Rural Development (Agribank ) in Tan Phu and Tan Binh Districts do not work properly, and he has to go far to withdraw money or even pay extra to withdraw from other banks.
Clients of the Bank for Investment and Development of Vietnam (BIDV) also complain that ATM machines of the bank do not work, but the bank still deducts money from their account.
Although the State Bank of Vietnam has asked financial institutions to stop charging their customers for withdrawing money from ATM's, many commercial banks have not as yet adhered to the order.
Vietcombank still collects a transfer fee of VND3,300 for internal transactions; Techcombank charges VND6,000 each time for money withdrawals from other bank ATM's; Agribank, Dong A and BIDV collect VND1,000 for printing of transaction receipts.
On the other hand, there are some banks that do not collect fee for ATM transactions from other bank ATM's, to attract more customers.
However, Le Huynh Ha from Vietcombank said the State Bank of Vietnam has not issued any official orders and commercial banks are therefore still charging transaction and account management fees.
Banks collect ATM fees because of the huge investment they have made in their ATM network system, said Ha. For instance, banks purchase an ATM machine for VND600 million (US$ 28,749) and spend around VND20 million per month for overhead costs of electricity, security and maintenance.
Hence, the State Bank of Vietnam and financial institutions must work together to develop a more functional plan to collect ATM fees, which suits the interest of both banks and clients, said Ha.