Many financiers are now offering lower lending rates of 17-19 percent per annum in accordance with state bank instructions issued last month.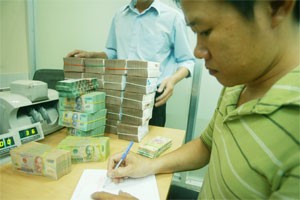 A man deposits his savings at a HCMC bank. Banks are cautious in offering low-cost loans (Photo: Minh Tri)
A director of a Ho Chi Minh City commercial bank said that banks are now cautious in selecting borrowers, for offering low-cost loans in an effort to avoid bad debts.
Large-cap lenders favor offering low-cost loans in US dollars to local exporters, he added.
"Enterprises have suffered high lending rates for a long time. Thus lenders hesitate to offer low-cost loans in order to prevent customers from borrowing the loan to repay debts at higher rates," said Pham Thien Long, deputy general director of HDBank.
"It is time for lenders to carefully pick borrowers, who offer healthy returns. Therefore they will set higher demands for low-cost loans."
Head of the Bank for Investment and Development of Vietnam in Vung Tau city disclosed that the rate on dong loans for corporates had dropped to 18.5 percent per annum at the maximum.
However, the disbursement rate remained low as many companies still suffered high inventory level and have not repaid previous debts, he said.
Analysts said room for credit growth of every bank was not much despite a low lending growth rate of over 8 percent only in the first eight months.
"Despite a falling lending rate, lenders still struggle to lend low-cost loans as the state bank announces a tight monetary policy, capping the credit growth rate at below 20 percent and asking banks to stop credit to the non-production sector," said a banking expert.
The State Bank of Vietnam will retain a tight and cautious monetary policy to fight against inflation for the rest of the year, the state bank announced at a conference in Hanoi last week.
Statistics show the state bank boosted the money supply in the open market, helping cool the interbank interest rate.
Yet the interbank rate remained higher than on dong deposits, showing that bank liquidity is still low and expected to be so for the rest of the year.
A general director of a small bank in HCMC said depositing growth rate showed signs of decreasing after the state bank made the announcement. Thus his bank hesitated to offer more loans, he said.
Unpredictable!
That was the word Nguyen Hoang Linh, deputy general director of Maritime Bank used for his prediction of the interest rate trend in coming times.
Reducing lending rate during the current difficult time piled up heavy pressures on lenders' profit.
"It will take several months for all lenders to cut their lending rates," Phan Thanh Hai, official from GiaDinh Bank, told Dau Tu Tai Chinh Newspaper.
"Lenders have to be cautious in providing loans as the bad debt level jumped to over 3 percent in July, compared with 2.2 percent at the end of last year."