As markets bounce back, banks are cautiously expanding their lending.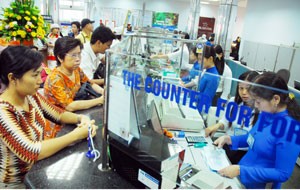 Although the markets are roaring back now, the banks are still cautious about lending.
At the beginning of the year, the banks tightened their grip on loans for the purchase of real estate and securities. Although banks approved loans for investors when property values in Ho Chi Minh City and Ha Noi were rising, as values slumped they became less likely to grant such loans. Although the markets are roaring back now, the banks are still cautious about lending.
In the beginning of September, Sacombank began to allow investors to borrow a maximum of VND5 billion (US$303,000) for up to two months. Meanwhile, Eximbank began to offer loans that use stock as collateral.
Banks may decide to provide loans after a short hiatus as the country's macro-economy becomes stable, inflation decreases, VN-Index surpasses 500 points and market liquidity has improved.
Banks are already eager to lend to securities investors. However, they only offer short term loans and carefully consider how much they will loan and what kind of investors they offer loans to. Only customers with a good credit history and known clients can receive money to refinance an investment.
In 2007, banks loaned up to 50-70 percent of market price of securities offered as collateral, but now this is down to 40 percent. Investors are also reluctant to apply for bank loans as they have learn the lesson that a investor with capital available can cope more easily with market fluctuations than one with a bank loan.
Real estate investors have reduced their portfolios as banks are refusing to rollover loans or extend additional sums. Construction projects have been delayed even as the demand for apartments, hotels and office buildings have increased.
The Military Bank will not offers mortgages to those who buy houses who buy houses to sell at a profit, said Ms Cao Thi Thuy Nga, the bank's deputy manager. Instead, the bank loans capital to effective projects which are located in beautiful places in big cities such as Ho Chi Minh and Ha Noi.
Real estate enterprises are expected to conduct business through trading floor and provide transparency. Transparency is a deciding factor when banks select which project to provide capital to, said Mr. Le Dac Son, VPBank managing director.