Many banks lowered their loan interest rates February 2 after Vietcombank and BIDV cut theirs a day earlier to as low as 8 percent following the State Bank of Vietnam's move to reduce the prime rate to 7 percent.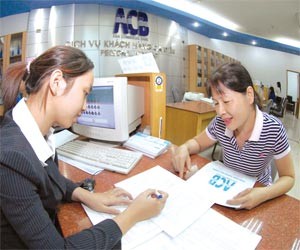 Transaction conducted at an Asia Commercial Bank branch in Ho Chi Minh City
Effective the 2nd, the Bank for Investment and Development of Vietnam (BIDV) cut preferential short-term lending rates from 8.5 percent to 8 percent for customers with export contacts and committing to sell hard currency to the bank.
 
Its short-term rates are 9 percent for three-month loans and at 9-10 percent for longer terms, representing an average cut of 0.5 percent.
 
Also effective the same day, Vietcombank announced rates of 10 percent, a one percentage point cut. But the rate for its best customers remains at 8.5 percent.
 
All interest rates are capped at one and a half times the prime rate, while loan rates cannot be higher than 3 percent above the maximum deposit interest rate.
 
Saigon Commercial Joint Stock Bank (Sacombank) reduced its deposit interest rates to 6 percent per year for a one-month term and 6.66 for 12 months.
 
Military Bank offers the highest rate, at 7.5 percent per year for one- and two-year terms.
 
Asia Commercial Bank and Viet Nam Joint-Stock Commercial Bank for Private Enterprises have trimmed deposit rates to 7 percent apparently in preparation for cutting loan rates.
 
To boost the economy, the Government has also approved an interest rate subsidy of 4 percent for short-term loans made between February and December this year, and banks cannot refuse to lend to borrowers eligible for these loans.