With the State Bank of Viet Nam announcing it will pay higher interest on commercial banks' reserves and also allow them to borrow against treasury bills, many banks have slashed loan interest rates.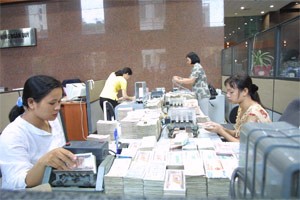 Economic experts predict that interest rate for loans at banks can go down further
Banks have to maintain a reserve of 10 percent of their deposit amount with the central bank which recently increased interest on this by 1.4 percent to 3.6 percent. 
The Bank for Investment and Development of Viet Nam (BIDV) cut its rate from 20 percent to 18.2 percent for normal loans, and to 17.5 percent for loans to borrowers in the petroleum, power, steel, coal, cement, pharmacy
euticals, and fertilizers sectors.  
Rice importers and exporters too can get loans at 17.5 percent, while small- and medium-sized enterprises will be charged 7.8 percent. 
Dollar loans are down 0.5 percent per year to 6 percent. 
State-owned Vietcombank has cut the rate to 19.5 percent and 18.525 percent. It also announced it would earmark around VND3 trillion (US$180 million) for lending to small- and medium-sized enterprises. 
Nguyen Van Se of the Viet Nam Bank for Industry and Trade (VietinBank) said his bank would cut interest rates for medium- and long-term loans by 0.7 percent to 19.5 percent.  
"For companies getting loans to buy food and catfish, VietinBank will only charge 18.5 percent (down 1 percent)," he added. 
The Viet Nam Maritime Stock Bank has announced a new special interest rate of 11 percent for importers and exporters. 
Private banks too quickly followed in cutting rates. A Chau Bank announced three-month loans would not carry more than 17.3 percent while Saigon Bank (SCB) announced 18.4 percent for six-month loans.  
Do Minh Toan, deputy director of A Chau Bank said: "The State Bank of Viet Nam has increased the interest rate on banks' reserves. This has helped banks cut their loan interest rates by 1.5 percent. The rates could go down further." 
Banks are also required to buy a certain amount of treasury bills and the central bank is now allowing them to borrow against these bills at 15 percent per year.  
Mr. Toan predicted that banks would soon have to consider using lending interest rates as the best way to compete in the market.  
In related news, many banks have recently begun to return tentatively to offering loans for property developers. Le Dac Son, general manager of VP Bank, said his bank would offer loans for buying houses soon and earmark around VND2 trillion (US$120 million) for this.  
Other banks too have tied up with developers of apartments and high-grade private housing.
Related article:
Banks Cautiously Expand Lending