Businesses are dissatisfied with the latest round of interest rate cuts by commercial banks, complaining rates for most loans are still too high.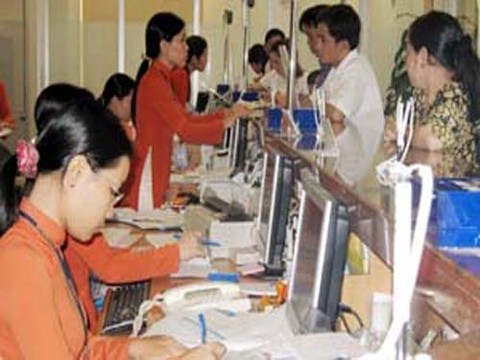 Transactions are made at a commercial bank
Nguyen Chi Trung, general director of Gia Dinh Shoe Company, said the current rates of 18-19 percent do not help borrowers much since they are not much lower than the earlier rates. To be helpful, the rate should be cut to 16 percent per year, he said.

Nguyen Thanh Son, deputy director of the Aquatic Products Trading Company, wanted banks to reduce rates to 12-13 percent to support exporters.

Many businesses are on the verge of going bust because are unable to obtain loans at reasonable interest rates, Tran Quoc Manh, deputy chairman of the HCM City Handicrafts and Wood Processing Association, lamented.

Truong Van Huynh, deputy general director of Petrolimex Group Commercial Joint Stock Bank, said banks should cut interest rates for all clients and all loan terms.

Duong Thu Huong, general secretary of the Viet Nam Banking Association, said while banks would like to cut lending rates to even 12-14 percent, depositors would not accept low interest rates for their money, she said.

The situation would improve if inflation eases and the central bank raises its interest rate on the compulsory reserves.

Huynh said to reduce interest rates further, the co-ordination between the central bank, commercial banks, and depositors needs to improve. If the money inflow expands, so would the outflow, he said.

He forecast interest rates to fall to 16 percent at the end of the year if things went well.