One day after the State Bank of Vietnam increased the maximum interest that commercial banks can offer depositors to 18 percent a year, interest rates varied at banks nationwide.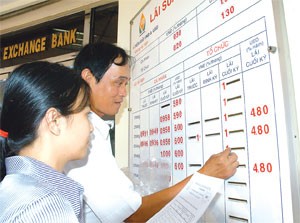 Vietnam-Thailand Bank officers write deposit interest rates on a board
On Monday, most banks posted notice that they would increase their deposit interest rates by around 2 percentage points.

The Vietnam Bank for Agriculture and Rural Development (Agribank) offers an annual interest rate of 14 percent for time deposits of seven to 12 months and 13.5 percent for 12-month deposits.

Sacombank offers an interest rate of 14 percent annually for deposits of more than six months and 13.5-13.8 percent for those less than six months.

The Asia Commercial Bank lured in clients by offering 13.68 percent for a 13 month deposit, 13.56 percent for a 12 month deposit, and 13.44 percent for a nine month deposit.

Many other banks have also raised interest rates for deposits, but they seem to be focused on short and mid-term deposits.

The Hanoi Building Commercial Bank (Habubank) introduced rates of 15 percent a year for deposits of one to 24 months and 12-14.4 percent for one to three weeks.

The Vietnam Commercial Bank for Private Enterprises (VP Bank) offers 15 percent for deposits of six month or longer.

The Export and Import Bank (Eximbank) offers 14.196 percent for seven to 13 month deposits and 14.004 percent for one to six month deposits.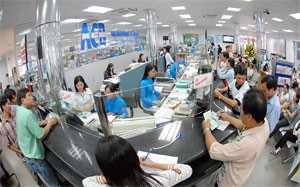 Customers flock to the Asia Commercial Bank to open saving accounts
DongA Bank offered 13.8 percent a year for one to 6 month deposits and 14 percent a year for seven to 12 month deposits.

The Saigon Commercial Bank offers an annual interest rate of 13.8 percent for deposits of nine months or more.

Banks seemed less certain concerning the interest rates for loans. When customers asked about the lending rates, bank officers mentioned only a general numbers such as 15.6 percent to 18 percent.

Mr. Dang Thao, a customer, said he submitted an application for a loan to the Pacific Ocean Bank quite some time ago, but the bank has yet to respond to his request. The same thing has happened to many customers at various banks. Nearly all banks have a numerous loan applications pending, he added.