Most lenders are planning to raise their chartered capital not only to meet the State Bank of Vietnam's requirements at the end of the year, but also to expand their business as the interbank rates remain too high.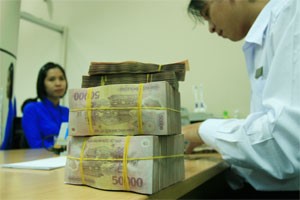 A cash teller count a pile of cash at a HCMC-based branch of Asia Commercial Bank (Photo:Minh Tri)
Many commercial banks in Vietnam were supposed to raise their registered capital to at least VND3 trillion (US$154 million) by the end of last December.
In a last-minute twist, however, the central bank decided to push its deadline back a year. In Vietnam, registered capital determines how much a bank can lend out and take in as deposits.
Around 10 commercial banks have not met the requirement so far this year. Financial experts said these lenders were under high pressure as the government's regulation on cutting the credit growth to below 20 percent weighted down their earning targets.
However, some banks, which have already raised their chartered capital to meet the required amount, said that they continued to raise more.
Tin Nghia Bank announced at the annual general meeting (AGM) this year that it would boost the registered capital to VND4.6 trillion ($230 million) from VND3.4 trillion through an issue of additional shares with the price of VND10,000 per share to existing shareholders.
The Ho Chi Minh City-based lender said it will allocate the additional amount of capitals to the government bonds, which has low risk and high liquidity.
The increasing registered capital will also enable the bank to upgrade technologies and raise its cash reserves for the expanding branch network.
At the AGM this year, TrustBank also gained shareholders' approval to the plan on raising chartered capital to VND5 trillion ($250 million) from VND3 trillion at the end of the year.
The additional amount of capitals will be used for branch network expansion, technology upgrade, credit card service improvement and subsidiary establishment.
"We are unwilling to borrow from the central bank due to a high lending rate of 23-24 percent per annum. The increasing registered capital will help us to have enough working capitals for our operation," said Hoang Van Toan, chairman of TrustBank.
DongA Bank followed a similar pattern, planning to raise its registered capital to VND6 trillion from VND4.5 trillion. The HCMC-based lender said the move will help it improve the competitiveness.
However, Dang Duc Toan, general director of the Western Bank, noticed that banks would struggle to manage the rising capital due to the central bank's cap on credit growth rate of below 20 percent this year.
Although shareholders were offered additional shares with the face value of VND10,000 per share, they were still not interested in the dilution plans as most banks' shares have low liquidity amid a bearish stock market.
Nguyen Dung, a shareholder of Tin Nghia Bank, said at this year's AGM that the bank still focused too much on credit growth, while lacking financial service packs. Chairman Vu Van Thanh responded that the financial service packs required high technologies and a large amount of regular clients.