Many commercial banks have surreptitiously raised their deposit rates on the US dollar, while the State Bank of Vietnam has not regulated a 'deposit interest-rate cap' on foreign currency.
Vietbank have recently increased their interest rates for US deposits from 0.9 percent to 1.3 percent. Depositors will enjoy an interest rate of 5.9 percent for 6 months. Other commercial banks like Tin Nghia Bank, Western Bank, SeaBank, Kien Long, Phuong Dong, and SCB have followed suit.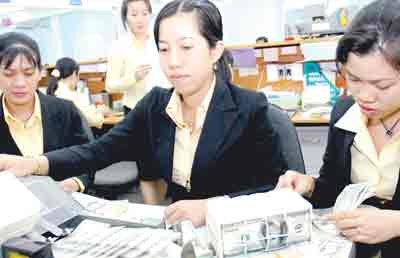 Commercial banks  recently raise interest rates for dollar deposits to attract more dollars (Photo: SGGP)
Only the Eximbank, ACB and Sacombank banks, which finance export-import activities, have maintained their interest rates to less than 5 percent a year.
The main reason banks are increasing their dollar interest rates is because they want to attract more dollars. In addition, as Tet the holiday approaches, many Vietnamese people are returning to Vietnam with US currency.
Furthermore, the demand to borrow money has soared from business enterprises, causing the dollar to soar; consequently, the commercial banks have adjusted their interest rates. The dollar loan rate at a number of banks is over 7 percent, while the Vietnamese dong is at 18 percent.
At the end of 2010, the State Bank of Vietnam ordered commercial banks to limit foreign currency credit on importing unnecessary items, setting a target of 23 percent credit growth. However, the credit growth topped at 27.6 percent, as compared with the same period in 2009.
According to economists, the interest rate of the Vietnamese dong is not as high as it was in 2010. Businesses, especially import-export firms, tend to ask for foreign currency instead of Vietnamese dong. Consequently, this trend will increase the dollar interest rate to a higher level.
However as foreign currency fluctuates, several business enterprises have 'lost out', because they have asked for dollar bank loans.
In conclusion, bank experts hope that the current trend to borrow the dollar will last only a short time.