Though liquidity in the banking sector is high, Ho Chi Minh City-based banks are not lending to small and medium-sized enterprises.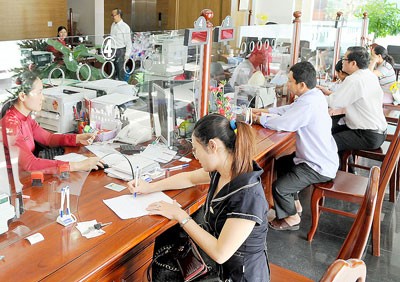 An Agribank branch in HCMC (Photo: SGGP)
Outstanding loans to this category of borrowers have not increased for the last six months, Do Minh Toan, general director of Asia Commercial Bank, admitted.
He said this was mainly because small and medium companies mainly borrow against property and since property values have slumped, banks are no longer willing to accept them as security.
Phan Huy Khang, director general of Sacombank, said short-term credit has grown slowly, especially to SMEs.
His bank's credit grew by just 4.5 percent in the first four months this year to VND116 billion (US$5.45 million), with SMEs accounting for 2.5 percent.
An Agribank spokesperson also said the bank found it very difficult to lend amidst the economic crisis.
 
Banks prefer to lend to well-performing businesses that do not need their loans and close their doors to loss-making companies, a manager at a major bank admitted.
SMEs are mired in difficulties and the number of them closing down and bad debts at bank are on the rise, he said.
Adding to the problem is the fact that the property market has not recovered, he added.
Credit growth at HCMC banks this year is 8.14 percent, with outstanding loans going up to VND965 trillion ($45.36 billion), according to To Duy Lam, director of the State Bank of Vietnam's city office.
According to Lam, 80 percent of banks' loans were for production or trading and the rest for buying property and stocks and consumption.