The potential consumption loan market of Vietnam and circulars on consumption credit about to be released by the State Bank of Vietnam (SBV) have prompted commercial banks to set up and take over financial companies this year.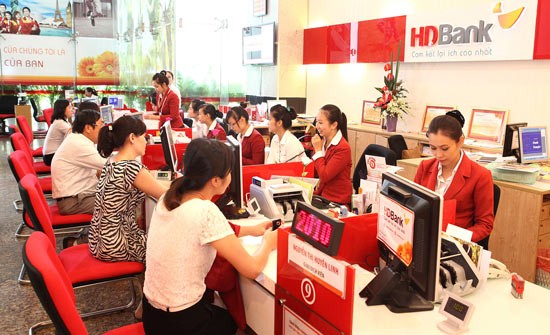 HCMC Housing Development Bank is one of first banks owning a foreign finance company earliest (Photo: SGGP)
Vietnam's population tops 90 million with a high ratio of young people with increasing consumption demand is believed a big potential market in the consumption loan field.
The potential market combined with SBV's imminently released regulations, forcing banks to have financial companies if they want to provide consumption loans, is forecast to render a purchase and merger wave of financial companies this year.
A banker about to buy a financial company said that Vietnam's consumption market has been a profitable piece of cake which would cause a fierce race to gain market share in the upcoming time.
Commercial banks will continue establishing or buying financial companies especially when SBV is compiling circulars on lending operation of credit institutions and consumption credit of financial companies.
Financial expert Nguyen Tri Hieu said that the new regulation aimed to separate risks from consumption loans from the banking system.
Sharing the same view, deputy director general of Ho Chi Minh City Housing Development Bank Le Thanh Trung said that consumption loans usually have high interest rates without mortgages. Therefore, it is necessary for banks to provide the loans via financial companies for better risk management.
Many banks reported difficulties in increasing credit in business sector early this year. Therefore, they have been in the tendency of boosting consumption loans and rushed to buy financial companies.
Martime Bank has purchased Vietnam Garment and Textile Finance Company (Photo: SGGP)
Vietnam Technological and Commercial Bank has purchased nearly 54 million shares of Vietnam Chemical Finance Company, lifting its ownership ratio at the company to nearly 100 percent.
Previously, HCMC Housing Development Bank bought foreign-own Societe Generale Viet Finance (SGVF) and renamed it HD Finance. In April, the bank and Japanese Credit Saison completed capital contribution project at the company and continued renaming it HD Saison Finance.
Maritime Bank has bought Vietnam Textile and Garment Finance Company in June. The bank leader said that the deal aimed to develop consumption finance segment.
Many banks collected their shareholders' opinions on financial company establishment or purchase in the recent shareholder meeting season 2015 such as the  Bank for Investment and Development of Vietnam, the Bank for Industry and Trade of Vietnam, Asia Commercial Bank, Saigon Thuong Tin Commercial Bank and Nam A Bank.
According to reports from SBV, consumer loans field has strongly developed in Vietnam since 2007.  Credit institutions' consumption loans reached VND188 trillion (US$8.62 billion) by the end of 2013, up 12 percent over the previous year and accounting for 5.4 percent of the banking system's total outstanding loans. Although there have no sufficient statistics, it was estimated to further develop in 2014.