Following the State Bank of Vietnam's directive to lower negotiable interest rates on loans, many joint stock commercial banks April 12 said they would offer loans at less than 15 percent per year to borrowers.
Le Xuan Nghia, deputy chairman of the National Finance Supervision Committee, said, "Since the Government ceased interest subsidies and monetary policies were tightened, credit growth has slowed."
In the first quarter, credit growth was just 2.95 percent, of which credit growth in VND was only 0.57 percent, he said.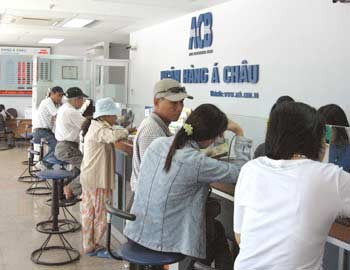 Customers perform transactions at an ACB bank in Da Nang City. The bank April 12 announced it would earmark VND20 trillion to make loans available to businesses at around 14 percent per year. (Photo: danang.gov.vn)
Although the negotiable lending interest policy has been carried out for over one month, the credit balance at commercial banks has remained almost unchanged, since many businesses, especially small- and medium-sized enterprises (SMEs), said they could not afford loans at high lending rates of 16-18 percent.
In addition, SMEs have also faced another impediment to borrowing capital - they have no mortgage to secure bank loans.
Since late 2009, the Vietnam Development Bank (VDB) has issued guarantee deeds to a number of borrowers wanting bank loans, but the amount they actually received from banks was modest, since banks tended to give priority to borrowers with mortgages.
Nguyen Chi Nguyen, general secretary of the HCMC Business Association, said commercial banks should assist SMEs in preparing feasible plans for use of lending capital to make them eligible for loans.
Many banks said they incurred higher expenses in mobilizing deposits in the first quarter, so they could not lower lending interest rates rapidly while they have yet to restrain input costs.
In recent days, most large commercial banks have lowered deposit interest rates to reduce overall operating expenses. One joint stock bank said it had reduced its average interest rate of 12 percent per year to 10.8 percent.
Ly Xuan Hai, general director of the Asia Commercial Bank (ACB), said both deposit and lending rates would decline in the near future. 
Based on the predicted inflation rate of 7 percent and also on exchange rates, lending rates are likely to reduce reasonably to benefit borrowers, he said.
Currently, the lending rates have been decreased from the previous 16-18 percent to 14-16 percent per year, equal to those in 2006 and 2007, Mr. Hai said.
On April 12, ACB announced it would earmark VND20 trillion (US$1.05 billion) to offer loans to businesses at around 14 percent per year.
Sacombank also said its loans would be offered at about 14 percent for businesses and exporters, and 13.8 percent for farmers.
Meanwhile, several other banks are giving priority to exporters, with loans offered at 12 percent.
A number of commercial banks have recently cooperated with foreign financial organizations, such as Japan International Cooperation Bank, the European Community, and Swiss Green Credit Fund, to launch soft credit projects to help businesses, especially SMEs.
In order to access loans easier, SMEs must also gain the confidence of lenders by improving their business capabilities, ensuring transparency of their business practices, and carrying out audits every year, banking experts have said.