All State-owned commercial banks agreed to cut lending interest rates by 0.5-1 percent to 13 percent per year from May 1 for borrowers of the types specified in a recent Government resolution, the State Bank of Vietnam said April 28.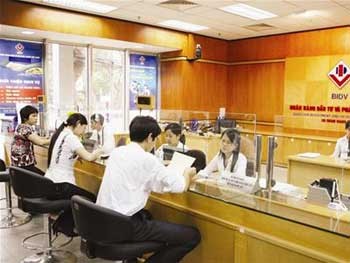 Deals at the Bank for Investment and Development of Vietnam (BIDV). All State-owned commercial banks agree to lower their lending rates to 13 percent for loans in VND from May 1. (Photo: Thanh Nien)

Accordingly, the lending cap will be applied to loans in VND for exporters, small and medium-sized enterprises, and businesses engaged in agriculture, forestry, fisheries, and salt production.

As for loans for real estate trade, securities trade, and personal purposes, the negotiable interest policy will be applied based on the supply-demand balance and borrowers' solvency.

The interest cut was announced following a recent meeting between the central bank, State-owned commercial banks, and the Vietnam Bankers Association.

General directors of State-owned commercial banks also agreed to cap their deposit rates at 11.5 percent per year.
They also pledged not to apply any promotion programs in capital mobilization in order to secure healthy banking environment.

The Bank for Investment and Development of Vietnam (BIDV) said starting May 4 it will apply new lending interest rates.

Accordingly, the 13 percent interest rate will be applied to short-term loans for business purposes, down one percent from the current rate.

Meanwhile, the 12.5 percent rate – down 0.5 percent –  will be offered to loans with a term of up to six months for exporters and businesses engaged in agricultural production; rural development; and  farm produce, seafood, wood, coffee, and rubber processing.

Medium and long-term loans, meanwhile, will be made at negotiable interest rates, with the highest rate not to exceed 14 percent per year, the bank said.