Many commercial banks announced on Wednesday that as per a State Bank of Vietnam directive they will reduce interest rates on old loans to 15 percent a year from July 15, to share the burden with many businesses.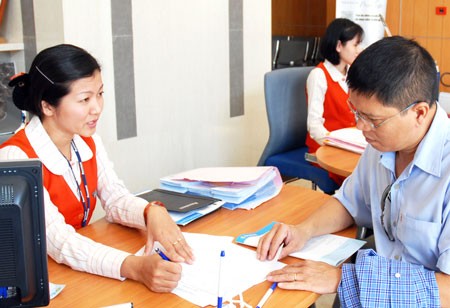 Customer completes loan procedures at a Sacombank branch in Ho Chi Minh City (Photo: SGGP)
Besides cutting interest rates on all old loans, the Vietnam Joint Stock Commercial Bank for Industry and Trade (VietinBank) will also provide new loans at an interest rate of 11-12 percent a year.
Pham Huy Hung, chairman of Vietinbank, said that the bank would boost lending to medium and small businesses and those in fields like agriculture, export and support industries.
The bank is planning to offer a credit package of billions of dong at an interest rate of 7-8 percent a year.
Saigon Hanoi Bank (SHB) on Wednesday also instructed its branches to reduce loan interest rates on old debts to 15 percent a year.
Nguyen Van Le, director general of SHB, said his bank had begun to lower interest rates even before the State Bank gave instructions and so far has cut the interest rate on 5,500 old loans to 15-16 percent a year. The bank will also endeavor not to exceed interest rates by more than 15 percent.
The Vietnam Bank for Agriculture and Rural Development (Agribank) also pledged to apply maximum loan interest rates of 15 percent from July 15.
If clients face financial difficulties, Agribank will extend the payment duration and continue to provide them with new loans provided they can present feasible production and trade reports.
Dao Minh Tu, deputy governor of the State Bank, said that so far four state commercial banks and ten joint stock commercial banks have lowered loan interest rates to 15 percent effective from July 15.