The first six months of 2008 has seen an increase in internet crimes, up 2.7 times, with increasingly sophisticated methods for e-transaction fraud. Experts had hoped new computer system would help reduce e-crime.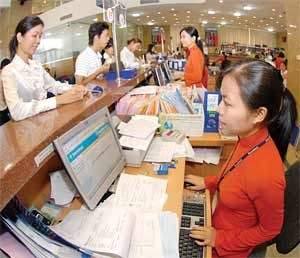 Customers carry out transactions at a Sacombank branch in Ho Chi Minh City (Photo: SGGP)


'Virtual Robbers' find it easy to cheat and steal money from internet users


In a statement on Vietnam's internet security in 2008, Bach Khoa Internet Security Center (BKIS) said 161 websites were attacked, various bugs affected 30 leading websites, and over 27 million PCs were infected. The statement estimated total damages of more than VND3 trillion ($172 million).
At the Banking and Security 2008 conference over December 1-3, Dr. Nguyen Viet The, Director of Professional Computer Technology Department under the Ministry of Public Security said most local businesses have not paid enough attention to internet security.
He also warned that businesses need to learn about security issues in order to protect their websites against hackers and repair problems in the short period.
Hackers focus most attacks on financial firms and securities. But, these businesses usually only have weak and easy-to-break firewalls protect themselves.
Among 26 securities firms 13 companies still had gaps in their computer systems. Though internet security experts tried to alert them few companies bothered repairing or upgrading their network system. In late April, nearly one-fourth of these companies were still troubled by hackers. The situation worsened when the hackers joined hands with some investors to carry out fraudulent transactions.
The first six months of 2008 recorded 20,000 fraudulent transactions via the internet, a loss of $37 million.
Mr. The also predicted that internet viruses and attacks by hackers will become more sophisticated and complicated.

Immediate Action Required

Since 2002, the State Bank of Vietnam (SBV) has carried out a project entitled "Modernizing the banking and the payment system". The first part of the project was completed in 2005 and helped banks to shorten their transaction period from 30 days to 24 hours. In addition, they are creating a new system that combines transaction information among various banks and allows customers to carry out e-transactions with support from partner banks.
The new system can handle 35,000 – 45,000 customers, carrying out transactions totaling VND33 trillion ($1.9 billion) a day.
Mr. Ta Quang Tien, Director of Banking Information Technology Department under SBV believed that the new system is a positive encouragement for capital turnover and an important key to keep customers' faith in the internet banking.
The last part of the project, scheduled to finish in March 2009, is expected to gather 63 state-owned banks together. The system will consist of 1,500 branches across the country to allow 2 million transactions a day.
Mr. Pham Thanh Tan, deputy Director of Vietnam Bank for Agriculture and Rural Development, advised banks to follow international technology standards before considering any other solutions. Training technical staff is also a must, added Mr. Tan.
The system is three months from being online but many people have high expectations, including increasing speed of payment, minimizing the risk of e-transactions, maintaining the infrastructure, keeping customers' data safely and protecting customers against fraudulent transactions over the internet.