The State Bank of Vietnam has ordered credit organizations to cap the ratio of non-productive loans of total outstanding loans at 22 percent by June 30 and 16 percent by the end of the year.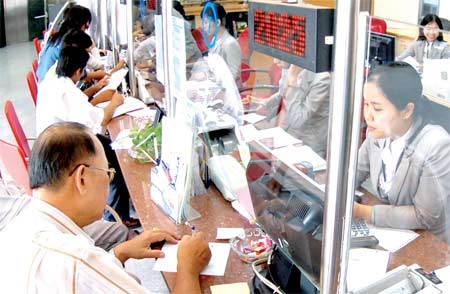 Transactions conducted at a Southern Bank branch in Ho Chi Minh City (Photo: SGGP)
Nguyen Van Giau, Governor of central bank, told a press briefing on June 9, that there are 20 commercial banks still, which maintain the ratio at more than 22 percent.
He added that two of them have credit growth rate of 50 percent and 52 percent.
The Governor said commercial banks have asked for more time to reduce the ratio to 22 percent.
The central bank gave the instruction early this year so banks have time to prepare and it has continuously warned of risks from non-productive loans.
Mr. Giau affirmed that some commercial banks will face difficulty in reducing the ratio, however it was a common policy hence there would be no exceptions. If any banks violate the regulation, they will face sanctions by the central bank.
According to the central bank, the credit growth rate was 6.92 percent in the first five months of the year, a year-on-year decrease of 7.46 percent.
The credit is growing in the right direction as per the target of less than 20 percent set for this year.
Credit this year has prioritized lending for the production sector since the country must curb inflation.
Credit to agricultural production and export sectors has posted a growth rate of 25 percent.